Shota Rustaveli is the author of 'The Knight in the Panther's Skin' (12th century AD) - the most prominent illustration of the Georgian classic secular literature - 'Vepkhistkaosani'- as it sounds and is written in Georgian.

Not much is known about Shota Rustaveli from available historical sources. Only the prologue of the book contains some slight hints on the poet's identity provided by the poet about himself. The Georgian authors of the later centuries are tending to identify the poet as Shota Rustaveli, a name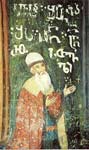 which is preserved on a fresco and a document from the Georgian Monastery of the Holy Cross in Jerusalem. The fresco was earlier described by a Georgian pilgrim and rediscovered by a team of Georgian scholars in 1960 headed by famous Georgian poet Irakli Abashidze. The same document speaks of Shota as a sponsor and a treasurer of the monastery.

It is said that Rustaveli was a minister at Queen Tamar's court and spent his older years in a monastery. Traditionally, Shota Rustaveli is described as a native of the southern Georgian region of Meskheti, where his home village Rustavi was located which may not be identified with the modern city of Rustavi in the vicinity of Tbilisi. He is assumed to have been born in between 1160 and 1165. A legend has it that Rustaveli was educated at the medieval Georgian academies of Gelati and Ikalto, and then in Byzantium. He must have produced his masterpiece circa 1205-1207.

'The Knight in the Panther's Skin' has been translated into many languages. English scholar and translator of Georgian literature Marjory Wardrop made the first English prosaic translation. Georgian scholar and translator Venera Urushadze made a poetic English translation.

The poem was first printed in 1712, in Tbilisi. Among the literary works produced in Georgia, the manuscripts of 'The Knight in the Panther's Skin' occupy a significant place. The 19th century Hungarian painter Mihay Zichy has created the classic illustrations that have been used in various editions of the poem. Zviad Gamsakhurdia (former president of Georgia) has dedicated a special monograph to Rustaveli's outstanding epic. Even a joint Georgian-Israeli postage stamp is in circulation to honor the poet.


The Rustaveli Aphorisms

Lion's whelp would still be a lion, be it male or female

That which we give up makes us richer, that which is hoarded is lost

The pre-eminence of poetry is that it can say things shortly

What the Almighty decrees not, no mortal can force into being

Better a glamorous death than life dragged out in dishonor

He is his own foe who seeks not a friend when afflicted

Even a serpent is lured from its lair by the sweetness of discourse

Death finds his way unimpeded, be the path narrow or rocky

Better than riches is strength of mind and spirit

Death smites the hero and coward, the youth and the aged together

The valorous knight craves glory, he cares little for booty

Evil is vanquished by good for the essence of good is enduring

Know that a rose without thorns has never been plucked

Can a physician cure him who tells not what hurts or afflicts him?

Victory, endeavour and luck will be yours if God decides it

An anvil of soft lead can break even hard stone

Translated by Venera Urushadze

You can buy the full text and relevant audio files (audioBook) of the of the poem from here. Poem is available in English, Georgian and Russian