Lisa was born in 1979. Her father, Tamaz Batiashvili, is
the outstanding Georgian violinist and a member of the Georgian State String Quartet. Her mother, Marika Lortkipanidze - a pianist who had a successful career on the cards had it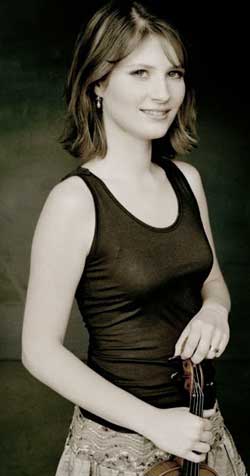 not been for Lisa to whom she imparted her devoted love, boundless energy, breadth of knowledge, experience and flinty determination. Tamaz Batiashvili recalls: January was drawing to a close when I went on a tour of the Scandinavian countries. My wife was pregnant then but I hoped to return home before my baby's expected due date. I still gave my brother Lekso a written consent to get the baby's birth certificate, just to be on the safe side. For our little one on the way we had already picked out a name - Lisa, a wonderful way to honour our closest friend - pianist Lisa Leonskaia, for whom we had tremendous respect. Lisa did not rank among the most popular names for girls then.
I failed to attend the baby's birth and when my brother called at the registry office they refused to acknowledge Lisa as an appropriate name and instead inscribed her as Elisabed. When my wife Marika learned about it she screwed up her eyes and asked my brother in a dreamy voice: "Do you think Elisabed Batiashvili will sound great on a poster?"
Lisa's piano career started at the age of three, when she took to playing Clementi Sonatinas by ear. At the age of four she demanded a violin, which became an excellent doll substitute for her - when she went to bed she took a violin, not a doll, with her. In 1989 Lisa, at 10, won a special prize at the All-Union Competition of Central Music School Performers in Odessa, in which children under the age of 12 were not eligible to participate. It was only by way of exception that Lisa was allowed to enter the contest. Two months later she became the winner of the International Dvarionas Competition in Vilnius in her age group.
Her father trained her as a musician. She was very committed and diligent. Before going on tour, her father would leave her a written list of tasks, which she got into the habit of completing as part of her daily routine.
Once in Bichvinta (a city on the Black Sea coast - now occupied by Russian Federation), Liana Isakadze asked the famous cellist Ivan Monighetti to set up an orchestra for children. The point was that all Georgian musicians had their kids playing a variety of different instruments. Lisa was an eight- year-old girl then. When the young musicians assembled, Lisa was playing football in the yard with a gang of boys. Despite objections by her father, she was made to tear herself away from the yard and to audition. When the opening chords of Mozart concert cadenzas rang out, Monighetti stopped cleaning his violin bow. On hearing the last chords he turned to Tamaz Batiashvili and told him: "The only thing you can do is to take care of her health, everything else will take care of itself. In a state of breathless excitement Liana Isakadze exclaimed: "She is certain to take over from me!"
As Tbilisi descended into civil war in 1991, Tamaz Batiashvili together with his wife and daughter left for Hamburg. He had a rendezvous with Mark Lubotsky there. "A year ago when my quartet was on a tour of Germany I told Mark I was planning to bring Lisa to Germany and asked him if he would audition her. Mark , offered me tactful advice saying: "what shall I do about her? She is too small to be enrolled in our college".
When we called at Mark's place in Hamburg he asked Lisa to go to another room and practice the violin. Mark launched into conversation with my wife and me but kept his ear to the music flowing from the next room. Then he called Lisa and asked her to play in our presence. Lisa performed the Adagio and Fugue from Bach's Sonata and Mendelssohn's concert overture. Mark had no other option but to pick up the phone and call the president of Hamburg's "hochschule": "I have a guest from Tbilisi, a little musician whom I strongly recommend and I assume all responsibility for her training". He lied about Lisa's age and said she was turning 13, although she was only 11.
Lisa studied under Lubotsky for three years. The maestro travelled a lot. Before going on each tour he would give Lisa music records - as a guide to accompany her through her work. Once he tasked her to prepare Prokofiev's violin concerto N 1 based on the recordings of Oistrakh.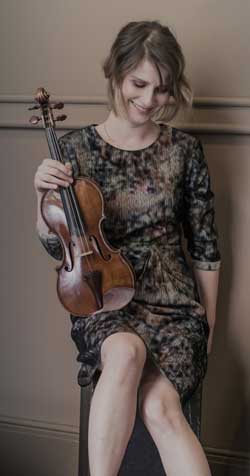 Lisa's father Tamaz t. expressed his  amazement at the involved in learning this highly sophisticated piece but Mark calmed him down saying: "Don't worry, she will get through it. We are set on following in Oistrakh's steps."
Then Lisa moved to Munich to continue her studies under the supervision of Anna Chumachenko, whose musical mentors in those years included Menuhin and Szigeti Yehudi. Relentless pursuit of excellence yielded its results and Lisa Batiashvili, 16, won second prize in the highly prestigious International Jean Sibelius Violin Competition. This victory catapulted her to fame and earned her a busy touring scheduie. The feedback that followed was overwhelming. "I was listening to the radio lost in bewilderment. Who could be the one giving such an inflaming performance of Beethoven? My puzzling efforts came to no avail. In the end the host identified the violinist as Lisa Batiashvili, 21" - wrote the outstanding Austrian pianist Alfred Brendel in one of the Swiss newspapers.
She first met Frangois in 1996. It was when one day her father came home and told her that the virtuoso oboist Frangois Leleux was due to give his brilliant performance to the accompaniment of the Ingolstadt Chamber Orchestra. Lisa found herself increasingly impressed after the evening. A few years later they met again at a festival in Finland. And her fate intertwined with his.
Frangois Leleux is the world's leading oboist and the honorary vice president of the Marigo wind instrument manufacturing company. He developed his ties with Georgia in 1998, prior to his marriage to Lisa. For several years he arranged for his colleagues to arrive in Georgia and give free master-classes at the Tbilisi Conservatoire. Goga Gvantseladze, the leading oboist at the Munich Opera Orchestra, and Goga Tskhadadze, a Georgian clarinetist working in Amsterdam, still play the instruments, which Frangois Leleux donated to them.
She plays the Stradivarius on loan from the Nippon Music Foundation (a Japanese company) and has the freedom to decide how many concerts to hold per year and with whom. She says she puts this freedom above everything else. Lisa fills her leisure time largely by staying home. She arranges her schedule so that her children Anna-Victoria and Louis- Alexander get her undivided maternal attention. Unlike other mothers, Lisa refused to enroll Anna-Victoria in an extended- day group. She prefers her children to have their dinner at home and spend as much time with her as possible. Anna- Victoria is seven. She was raised in Germany and feels a bit like a cosseted princess. She speaks three languages and is extremely outgoing. When her family moved from Germany to France she immediately set out to socialize and struck up friendship with lots of kids. Anna-Victoria is an ideal sister and someone Lisa can always count on. Lisa can always leave her little "assistant" to take over while she is away. And she is sure Louis will have the best of care from Anna- Victoria.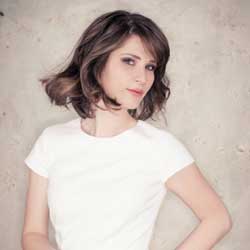 Louis- Alexander has a special attitude to music. He is young, but can stay motionless and listen to music during a two-hour concert. On hearing Lisa's account of Beethoven's concerto in Israel, one of the music critics who became notorious for his vicious criticism of the world's virtuoso performers wrote: "During the last twenty years this performance can unquestionably be ranked among the finest in Israel... and maybe in the world too".