Perhaps, any of modern technologies is not imposed to the population so aggressively, as 3D.
All top brands promote 3D with support of film studious and, that the most sad, "move" 3D first of all through children to whom it is simply harmful to sight.
But as though we opposed 3D, there is no way: digital tri-dimensionality will inevitably come during our life, and it is necessary to learn to live with it. For reception of three-dimensional effect it is necessary to isolate each eye during viewing for what glasses are necessary. But already it is clear, that it is necessary to get rid of glasses, and the following stage of development 3D is glassless, some similar technologies already given trial runs, on another active development are conducted. The most popular technology is based on effect a parallax-barriers: every the frame is formed in different foreshortenings, and the screen displays a picture under different corners.

The TV without glasses

The market is full of 3D-TVs but if to speak about glassless here it is most successful Toshiba: model REGZA 20GL1 just about will go on sale (2011), and while it is considered the most successful. First of all because like as the problem of loss of 3D-effect is solved at change of a position of the spectator during viewing. Everyone the staff is formed in nine parallaxes (foreshortenings), they stand out under different corners owing to effect of micro-lenses: the thin layer of liquid crystals is put on the screen, and before each group of nine pixels the lens by means of which the picture stands out on the trajectory, depending on a corner of sight is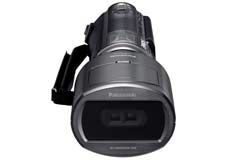 located.

Cameras and camcorders

Company Panasonic in the communications with the consumer makes a start from the proud motto «We — the first brand which has offered full ecosystem 3D». It means, that except for the devices reproducing 3D (TVs), at Panasonic has gadgets, writing down in 3D, that means that it is possible not only to consume a 3D-content, but also to make. And, really, the first consumer-like a 3D-videocamera in the market was model Panasonic HDC-SDT750 which has been offered exactly one year ago (2010). Though, as a matter of fact, it is usual, not 3D-camera HS700 on which the optical 3D-nozzle on an objective is fastened. Recently announced 3D camera Lumix G3: takes video under the same scheme: the first-ever 3D-objective is put on it for the camera. .

Notebooks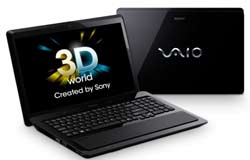 Among notebooks has most of all impressed 16-inch Sony VAIO F VPCF21Z1R which from the moment of the announcement the last September 2010 has undergone significant changes and has already visited on the test. The screen with LED-illumination gives out the fantastic 240 frames per second, additional 120 Hz are allocated on display of the intermediate black frames which delete residual images. Uniqueness of this gadget is that glasses here are used, and wire, and not from NVIDIA, but own. It is possible to play 3D-games on notebook and to watch 3D-films.
Smartphones and tablet computers

The most mass type 3D-gadgets for certain become smartphones and tablet computers (TC) — as the most inexpensive. It is known, that Apple actively works above introduction of support 3D in the tablets and TC and as soon as will appear 3D iPhone and 3D iPad, the market will instantly be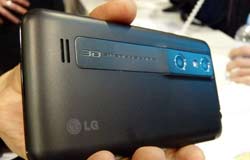 filled with similar products. But company LG has shown the first commercial samples. The TC Optimus Pad up to us has not reached yet, but smartphone Optimus 3D should appear on sale this week. It is massive gadget with the greater 4,3-inch screen which is giving out a 3D-picture, visible without glasses. Here architecture Tri-Dual is used: dual-core processor, a two-channel mode of data transmission and double architecture of memory. It is necessary for as much as possible high efficiency, greater computing capacity here is required. The mode 3D can be disconnected - 3D is necessary in several sections, for example, gallery, games and so on. By the way, simultaneously with start of a product in Korea LG has presented at once 17 3D-games in which it is possible to play on smartphone — all of them from company Gameloft. Some games will be pre-installed in Optimus 3D. In smartphone there is a function allowing in a mode of real time to transform usual photos and video in three-dimensional, the similar software for converting usual games in 3D is expected. Besides 5-megapixel the camera module is  doubled, that is why smartphone could take a stereo photo and video.

Games consoles

It has appeared Nintendo 3DS - the first portable game console with the screen supporting the 3D-image, The 3D-screen of 3,5 inches works as a diagonal by a principle of the autostereogram, here too glasses are not necessary. Therefore the visual resolution of the top screen of the console 800х240, 400х240 pixels is allocated on one eye, four hundred on another. There are more and more 3D-games on the market and a choice is already quite good. But to play it is necessary in strictly horizontal position, as a corner of the view is absolutely small. Console is equipped with three cameras, two on the top side take 3D-picture which, however, does not impress - only the screen of a console is possible to watch.