Page 6 of 12
Sapphire (Sapphirus)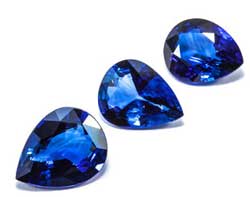 St. Epiphanies of Cyprus considers sapphire to be a royal gem. In the Bible this precious stone is encountered in the following context: As Moses, Aaron, Nadab and seventy of the elders of Israel approached the Lord's Mount, "They saw the God of Israel; and there was under his feet as it were a paved work of a sapphire stone, and as it were the body of heaven in his clearness" (Exodus 24.10). According to historical annals, the Egyptian high priest was wearing a sapphire on his breast with the image of the Goddess of Truth depicted on it. During the pagan mysteries, the high priest was clothed in a sky blue robe, decorated with stars and girded by a yellow belt. Aaron dressed in the same manner, which signified the possession of eternal truth. The sky-blue color is also the symbol of the soul, which strives for eternity.
According to eastern tradition, sapphire is included in the corundum family and is one of the varieties of this stone: the corundum proper, the blue corundum or sapphire, the yellow corundum or topaz and the red corundum or ruby. Some include leicosapphire or the white corundum - an oriental amethyst - to this family as well. The green-coloured corundum - an oriental emerald - is also a fairly rare stone.
Among the sapphires of different colours, the so-called "royal sapphire" of a deep blue colour is considered the "real" sapphire. This gem endows its owner with loyalty, nobility and contemplation of spiritual matters. It is for this reason that the sapphire is sometimes called "the gem of nuns". This precious stone cools down passions and preserves chastity. According to St.
Epiphanies of Cyprus, if sapphire powder is mixed with milk and then applied to a wound, an ulcer or a pimple, the malady is cured.
The name of Jacob's fifth son, Dan, was inscribed on the sapphire. "Dan" means "a judge". The Bible gives an account of the strength of his descendants and their martial spirit. Samson, one of the most renowned persons from Dan's branch, was indeed distinguished by his intelligence, craft and strength. According to Christian exegesis, Antichrist should will be born of Dan's descendants. The words of Patriarch Jacob are an indication of this: "Dan shall be a serpent on the way, an adder in the path, that biteth the horse heels, so that his rider shall fall backward" (Genesis 49.17).
In the Book of Revelation we find the name Manasses (Jacob's eleventh son) instead of Dan among the servants sealed by the ring of God in their foreheads (Apocalypses 7.6).
The most other precious stones, sapphire protects its owner from the evil eye. It also retards ageing, helps cure bronchial asthma, the gastrointestinal tract, nervous system, rheumatism, endocrinal and infectious diseases, diabetes and other ailments. Sapphire is the main gem of Taurus (April 21- May 21) and Matthew is the apostle who corresponds to it.