Your Highness: You were the ambassador of the Democratic Republic of Georgia before the Bolsheviks occupied our homeland. History is repeating
itself Russians renamed your land Samatchablo as South Ossetia and now reoccupied it, but God will help us to return it, your soul will help us to free Tamarasheni, Kekhvi, Kheiti, Upper and Lower Nikozi, Tskhinvali...(editor note: cities in Georgia).
A note by an unknown lady
"Prince from a Fairytale" - New-Yorkers used to mistake Georges Matchabelli for an Italian gentleman... "Italian? - No, I'm a Georgian..." - he would say with a sad apologetic smile. Tom away from his homeland caught in a wave of Sovietization and dogged by wistful memories, he was extraordinarily terse about his bouts of nostalgia and was an instantly recognizable face for his sartorial appearance - he always wore a chokha (traditional male dress). There is a lot of myth surrounding Georges Matchabelli, which seems difficult even now to disentangle from reality... Mikhako Tsereteli (https://ebooks.tsu.ge/digital-library-founders) referred to him as "a European- educated Georgian nobleman". "Even if huddled in dozens of quilts Georges will continue to exude the overpowering smell of something deliciously Georgian" - Grigol Robakidze is quoted as saying... Georges was Ivane Matchabelli's nephew and "there was a startling likeness between them"...
The noble Prince of Georgian extraction has crowned the heads of American ladies' - Matchabelli with his perfumes dumbfounding the American elite would attract wide newspaper coverage: 'high- heeled shoes, the swishing sound of gowns, hats and jewelry come increasingly short of making men really dizzy. The thing supposed to work magic is now to be sought in Prince Matchabelli's previously unknown female fragrance'. Prince Matchabelli became an elegant and at the same time lusciously tempting accessory injecting a tremendous infusion of joy, charm and romanticism into the mundane routine of depressive reality... Prince Matchabelli - a classic perfume line - was designed to offer fragrance with a touch of 'oriental mysticism' to aristocrats with pretentious airs and tastes. Queen of Georgia, Princess Norina and Golden Autumn were brands embossed with a regal crown design and golden patterns. Prince Matchabelli salons were run in California, Chicago and Texas.
Georges Matchabelli made a great guest at social gatherings or wild parties in New York. A crowd of young women hanging around the Prince "were eyeing him questioningly, gripped by a frenzy of desire to strike up a conversation with him". The muse of the Georgian gentleman, however, became Norina Gilli, an Italian actress of mesmerizing beauty playing under the pseudonym of Maria Carmi. Georges Matchabelli married her in 1916. In 1926 he and his wife established the Prince Matchabelli Perfume Company.
Spiridon Kedia: 'Prince Matchabelli perfumes are hugely popular throughout America. Unfortunately, Georges made his first strides when America was going through a grave crisis but he is weathering the storm successfully. Prince Matchabelli is the only company to enjoy a steady growth of business turnover during these lean years of economic depression. Georges Matchabelli started his business from scratch with no money to hinge on. His only asset is his own enthusiasm and an in- depth knowledge of customer psychology.
He appears to be a real aristocrat in his new profession...He set up offices simultaneously in Paris and London to earn his American company universal acclaim".
Prince Matchabelli was an innovation in America of the 1920s-30s and the Georgian Prince was the first to introduce a perfume brand in New York...
Natural Extracts + Romanticism + Exoticism = Art. It was a formula which the perfumer thrashed out when engaged in the development of a classic perfume line. Tags and newspaper ads were another special feature of his experimental 'art'.
Golden Autumn - a stylish and gorgeously smelling perfume capturing the warm impression of ginger. Indulge your passion for it with a sense of pride and pleasure and imbibe the spirit of unexpected adventures. Apply perfume to the wrists, behind the ears and in the crook of the elbow to keep the scent radiating off the body ($4.00).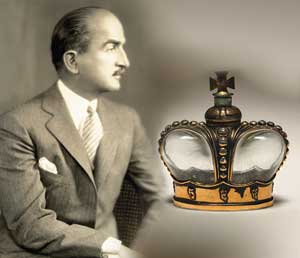 Wind Song is a perfume that stands out for its freshness to create a tender long-lasting scent. Recommended for sprayingon the forehead, neck and arms after a shower. Put on the fragrance early in the morning to envelop yourself and others in a soft melange of floral aromas ($0.75).
'Abano' - Mingle Abano oil with warm water for a source of sheer delight. Once under your skin, it will let the alluring oriental aroma wash over you for hours. Just spoil yourself with this rare luxury. It will give you a wonderful feeling of serenity, make your fatigue evaporate forever and hold you in a gentle caress. Use it as part of your evening wear and let it weave its magic spell around you ($1.50).
And how did this complicated journey start? Could Prince Matchabelli be the fulfillment of Georges' American dream?
"There is going to be considerable hardship for emigrants. People living in abject poverty and distress are doomed to surrender their dignity and stripped of the ability to support their country politically. I am therefore channeling all my energies into the task of making a fortune in America that will prop up our independent activity" – Georges Matchabelli told Mikhako Tsereteli in Berlin... Georges was actually distancing himself from the political intrigues of the government in exile in France. However, the toughest task he set himself and his flourishing business in New York in 1926 was to overthrow the red dictatorship on the occupied territory of Georgia..."Georges is the only man among Georgian emigrants catching on in a big way geared towards gaining a dominant position on the world market... Georges is applying himself thoroughly to meeting this challenge in order to turn immediately to the attainment of another goal: putting himself full- bloodedly at the service of Georgian politics and championing the cause of freedom shoulder-to shoulder with his loyal friends..." - Spiridon Kedia.
"Our national cause and goals can only be advanced if built on a solid financial base. Otherwise, the memoirs we are writing will lead us nowhere. With our feet on firm financial ground, our memoirs will take on a genuinely meaningful focus and get their message across..." - Givi Kobakhidze.
In 1914, Georges Matchabelli acting in league with his fellow thinkers founded a committee of independent Georgia in Berlin. Following the Russian revolution in 1917, the committee brokered agreements on recognition of Georgia's independence with the governments of Germany, Austria and Ottoman Turkey.
The notorious submarine operation also traces its history back to Georges Matchabelli and... the Stockholm marine corps. Committee members aboard a German submarine made three penetrations into the territory of Georgia from Istanbul. Koki Dadiani's estate was used as a storehouse for smuggled arms...Mikhako Tsereteli uncovers seemingly unimportant but interesting details of the clandestine maritime operation: 'They seemed clearly in a good mood when boarding the vessel. However, beneath this festive mood there was an underlying apprehension. Those who seemed calmer owed their composure to previous experience of similar voyages.
Kartsivadze was the last to get inside the submarine. I was left outside, quite alone. Gripped suddenly by an enormous fear I walked back a few steps and was about to flee when Georges Matchabelli produced a revolver and told me in a deadly flat voice: 'get inside or I'll shoot you down!' The strain of bitterness in his voice was such as to make me feel that he was indeed going to do away with me, so I had no other option but to run down the stairs and join the others'.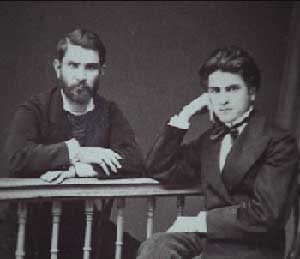 Georges Matchabelli enjoyed a solid reputation among the German political elite. He qualified as a German agent and was wanted by Russian counter- intelligence as one of the most dangerous criminals. Being thus chased, though, he kept gravitating towards his house in Tamarasheni, known as the Matchabelli patrimonial residence.
Prince Matchabelli served as ambassador of the Democratic Republic of Georgia to Italy immediately before the establishment of Soviet rule in Georgia in 1921. The defeat of the cause of freedom was excruciatingly painful but far from unexpected... Mikhako Tsereteli recalls: 'I met Georges during my stopover in Rome en route from Istanbul to Berlin. The imminence of Georgia's collapse had been on everyone's mind... Georges was wallowing in his own grief: the case of Georgia has been shelved to gather dust for a long time. But Georgia would have escaped this disaster had it been ruled by gifted and enthusiastic people...'
What was it - Prince Matchabelli's calm acceptance of reality or his sad complaint?... Later he made the simultaneous transition from politics to business and from Italy to America, temporarily though... His perfume brand Prince Matchabelli, which ranked in the top five of the biggest international corporations in America, served as a powerful symbol of Georgia in New York...
The venture that started to indulge just a hobby of George Matchabelli's yielded exceptionally large profits...
The opening ceremony of yet another of Prince Matchabelli's salons set to take place on 711th avenue in New York in 1935 awaited the presence of British designer Cecil Beaton and photographer Pavel Tchelitchew. Everything went haywire, however, after Mr. Matchabelli on a business trip to set up branches in California caught cold and died of pneumonia shortly afterwards...He was buried in New York...
"Prince Matchabelli never returned to his fold and principality in Georgia after the Russian Federation, but in a new homeland he found on the other side of the world his name still continues to be heard and his work – honoured". The American press coverage his perfumes gained subsequently was phenomenal indeed. Prince Matchabelli ranks high among the beyond... It retains its original name and is still based on the formula, no one was subtle enough to change.
By Mzekha Makharadze