The richest sportsman in history was Roman Gaius Apulei Dioklus.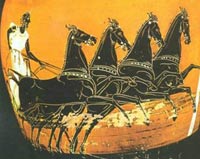 The professor of the Chicago University Peter Strack has learned, that during sports career Dioklus has earned the sum equal today 15 billions of dollars. This sportsman has begun the career in 18 years and has finished it in 42 years.

He acted in the most popular kind of sports – races of chariots - and has earned almost 36 million sesterces. This sum is engraved on a monument which was erected in the honour of the champion by devoted fans.

This monument has been found out during excavation. According to the newspaper "DailyTelegraph ", Gaius Apulei Dioklus has beat well-known golf-player Tiger Woods who is the first out of modern sportsmen earned 1 billion dollars.